My latest heart beat goes to Michel Roth of the Bayview Restaurant at the President Wilson Hotel in Geneva. I was mesmerised by the flavours, the textures and the beauty of his dishes. I chose quite "traditional" dishes but they all had a special turn and explosive yet subtle taste.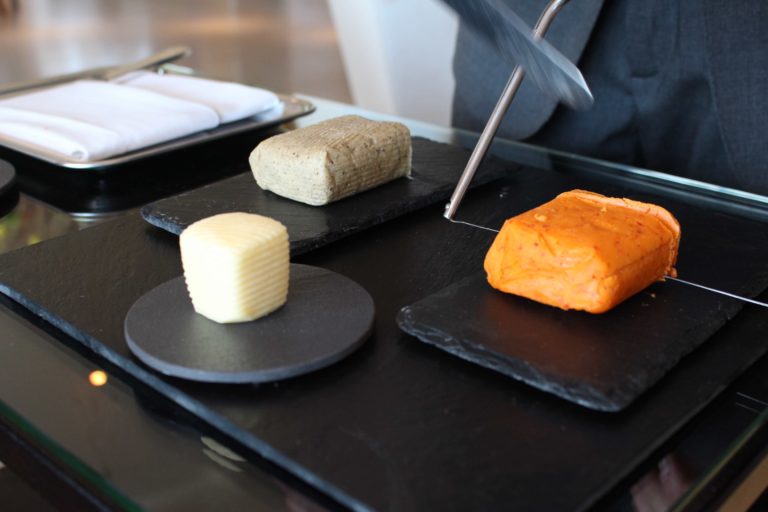 The first impression when entering the restaurant is WOW! You have a full front view of the lake, super comfy chairs (you could spend a year sitting on them) and large space between tables. You know in advance it is going to be a good and memorable meal.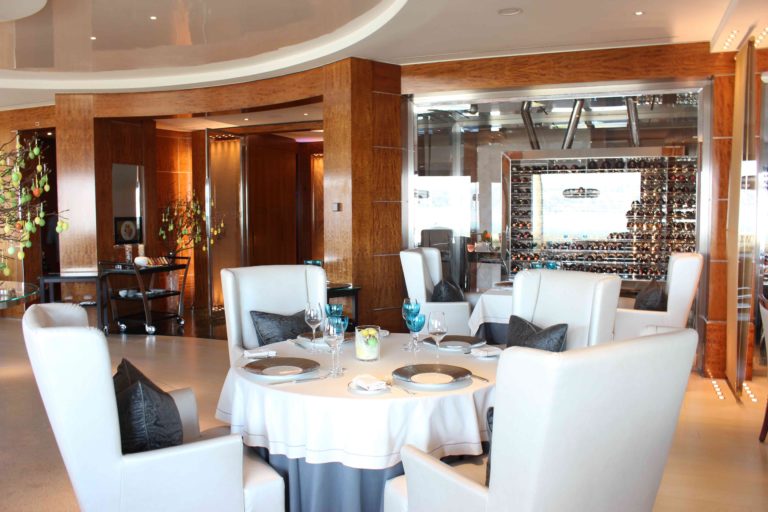 I had the chance to go there for lunch, which is great to enjoy the view and take pictures of the artistic dishes. They are as delicious as they are beautiful (my heart stopped every time I destroyed the beautiful presentation).
As an aperitif they brought us a tapenade (olive spread) and pesto with crystallized tomato and a pissaladiere that is a puff pastry.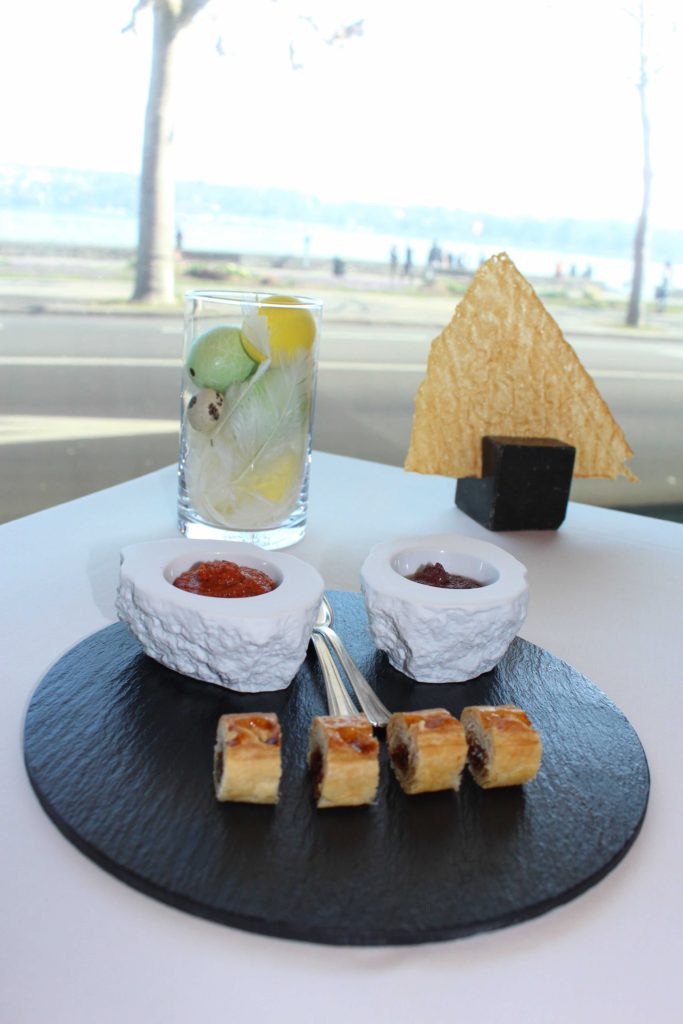 A
p
e
r
i
t
i
f
As an amuse bouche, I had probably the most beautiful sea urchin I have ever seen. Inside there was a sea urchin and cucumber mousse and below it had crunchy cucumbers topped with caviar. Speechless…..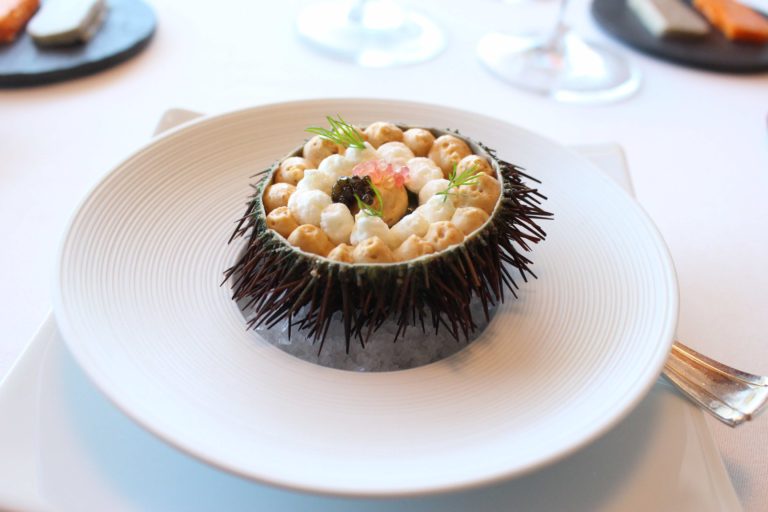 For the starter I could not resist the Foie Gras… I mean how could you? And as soon as I saw it arrive, I knew I had made the best decision ever (clap clap clap). It was a Foie-Gras-dream come true. I had so much to eat! First a little tower with a tiny brioche on top and a silver (yes silver) leaf to top it all. Then the Foie Gras Poelé (that can sometimes be too soft when it is not cooked correctly) was cooked perrrfectly and seasoned with precision and served on top of caramelized apple style Tarte Tatin. And last, but not least, a brioche to eat it all. See, I was not lying when I said it was a Foie Gras dream 🙂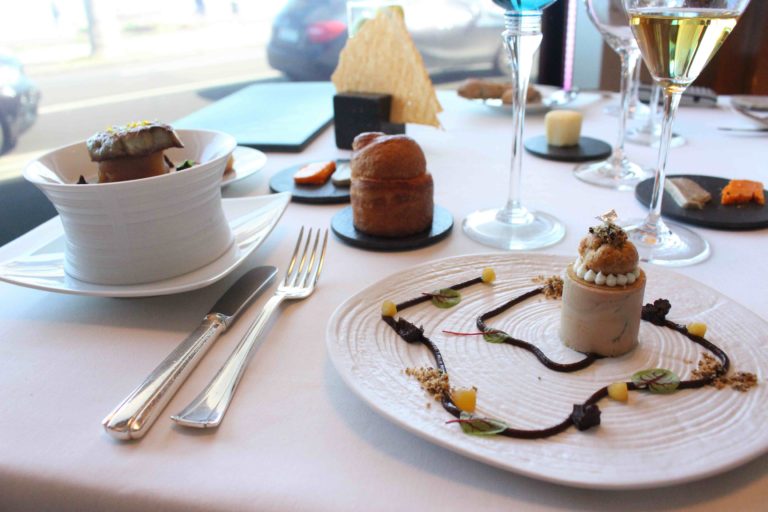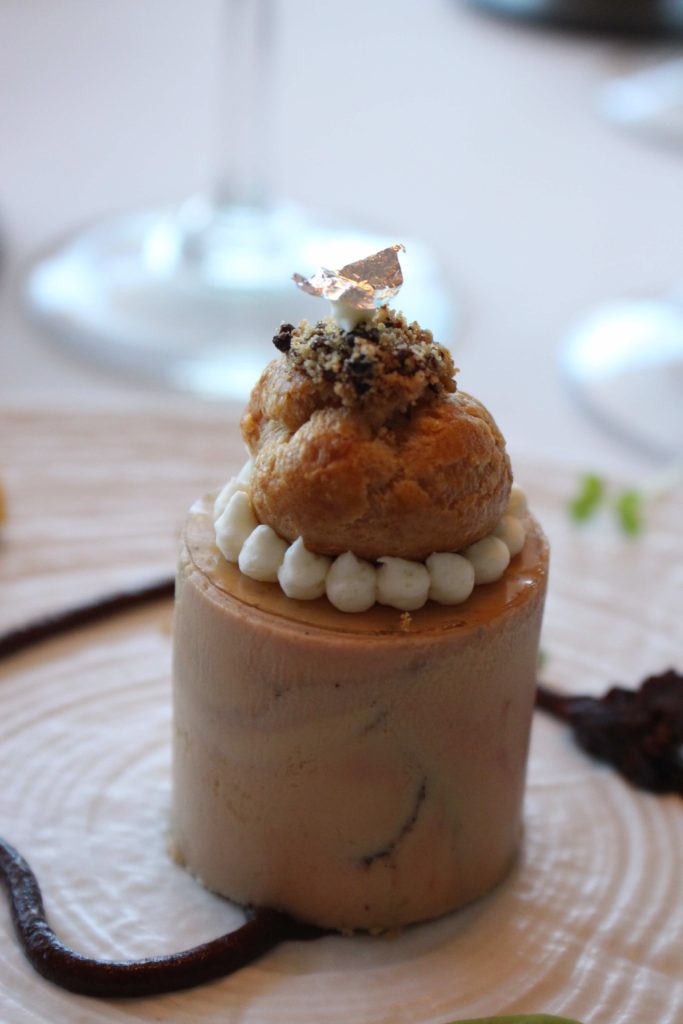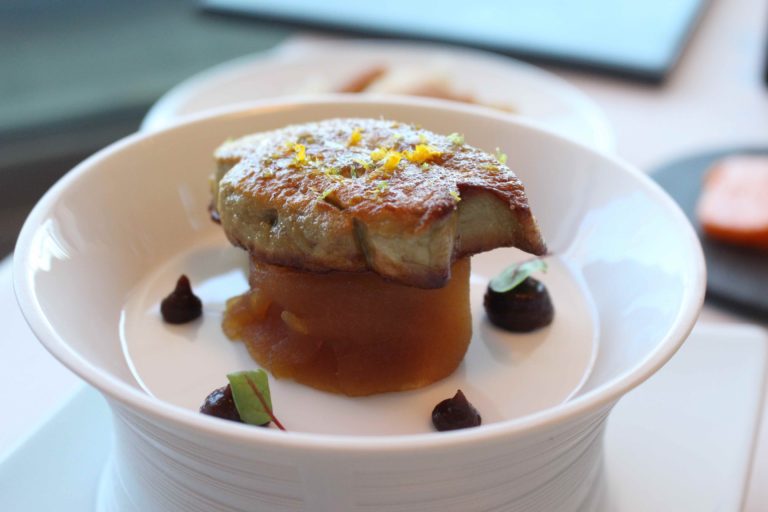 For the main course I had the sweetbread. Lately I always choose the sweetbreads when I see them on the menu. I discovered them at Le Flacon and cannot resist them anymore! This one was 10/10 in my humble opinion of course. I loved the grilled outside and tender inside, the exquisite sauce and the unexpected grated dry egg yolk on top* (explained better below).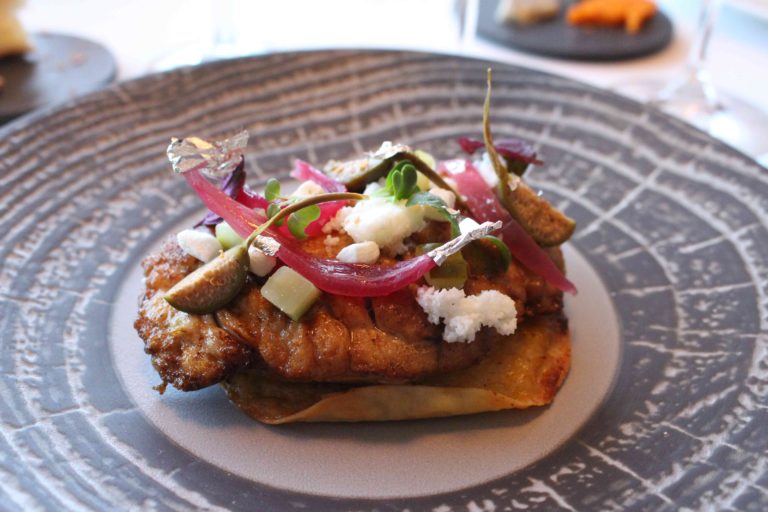 Roasted sweetbread, tart flambée with sweet onions, gribiche and dry egg yolk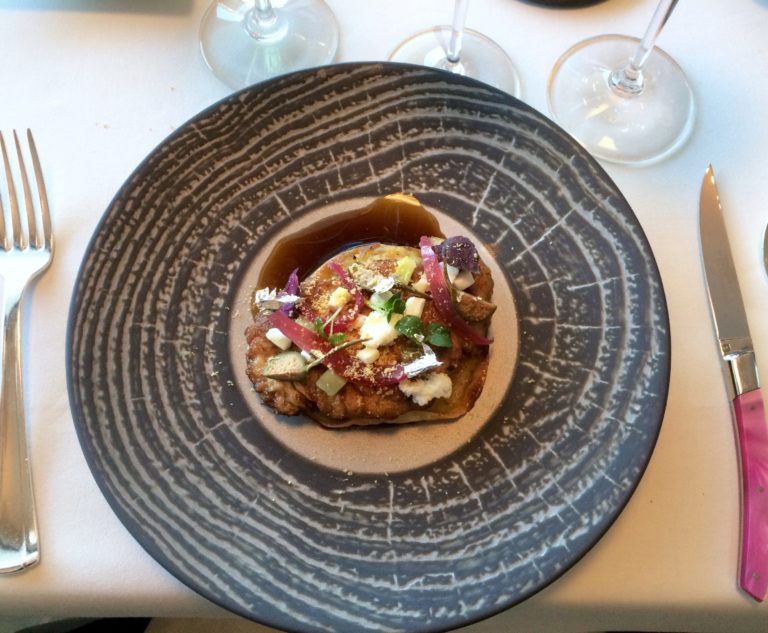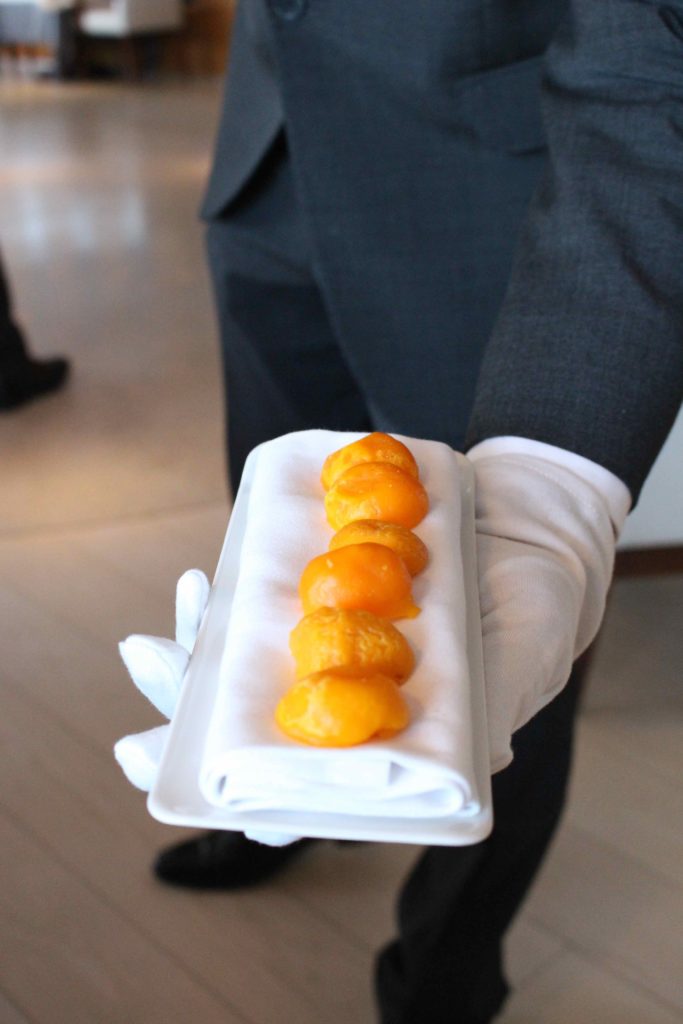 As a special touch they brought us a Truffle and Potato Capuccino. I could literally eat this for the rest of my life without complaints!
Time for dessert…. decisions, decisions…I went for the Mille Feuille a classic delight. However it had a fun twist because it is served separately. First they bring the cream, then the pastry and then the choice of 3 toppings: chocolate, praline and pure sea salt caramel. Fave: pure sea salt caramel ♥ ♥ ♥ ♥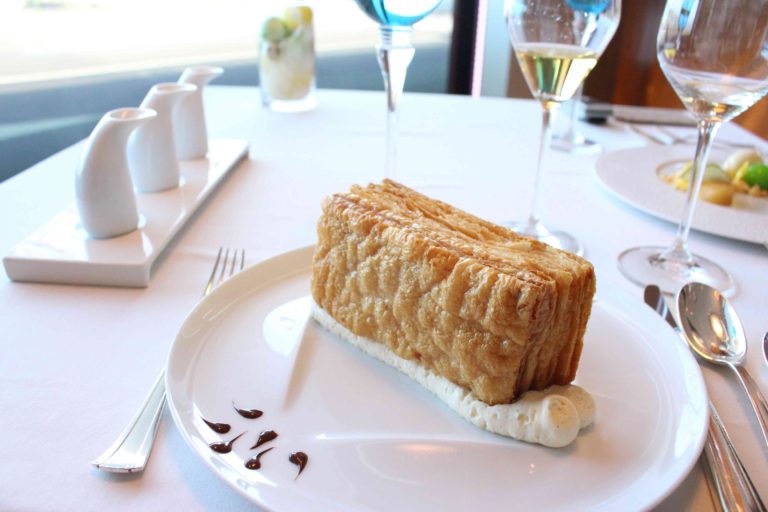 Millefeuille with diplomat cream chocolate, praline, pure sea salt caramel sauces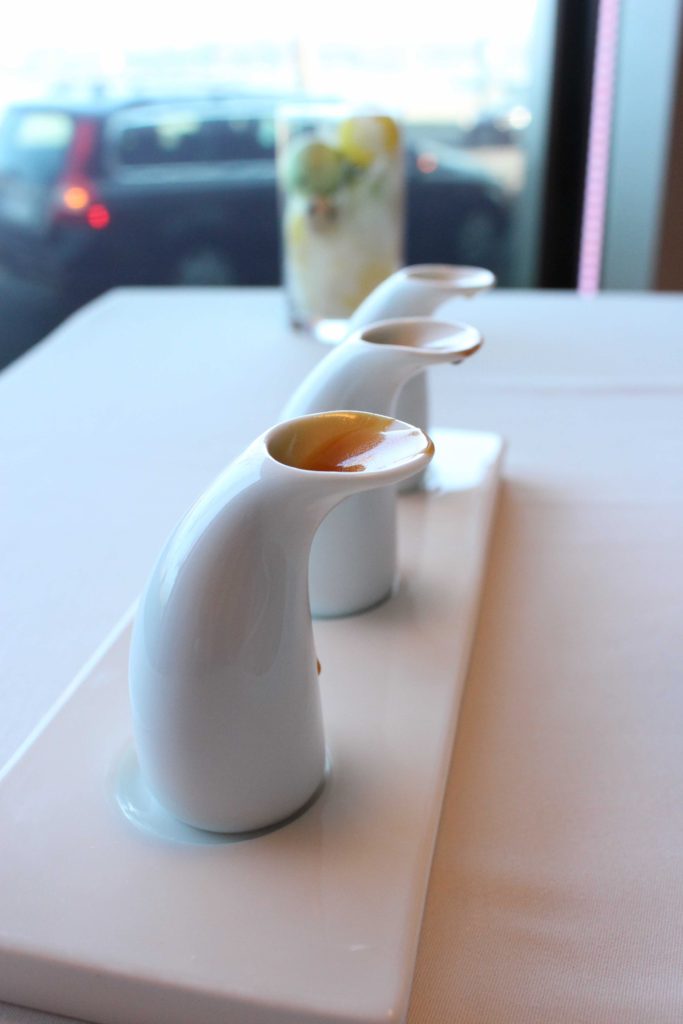 Millefeuille with diplomat cream chocolate, praline, pure sea salt caramel sauces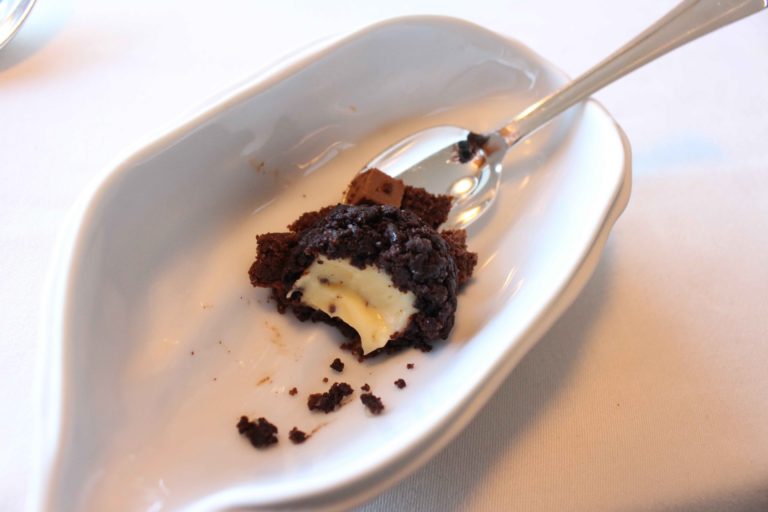 Big THANK YOU to the Bayview team for this extraordinary cuisine! I tip my hat to Michel Roth. It had been a while since I was so enchanted by food this way; from presentation, to taste and technique, everything was extraordinary!
I hope you liked the article and let me know if you have been to Bayview and what were your thoughts, opinions, choices of menu? I would love to hear all about it!
Kiss!
Diana
Gault & Millau: 18/20
Michelin: 1 Michelin Star
Schedules: Tue- Sat 12:00 – 14:00 & 19:00 – 22:00
Reservations: +41 (0)22 906 65 52
Website
Facebook
© Copyright Livingeneva. Unless otherwise stated, all content, text and photos on this website are work of Livingeneva and may not be reproduced or copied in any form without authorization.