This May we spend a lovely weekend in Switzerland, to be exact at Evolène in the Valais region. It was a family weekend with our 1 year old daughter less than 3 hours away from Geneva (2.5 to be exact).
Hello dears,
Welcome back to the blog, I am delighted to share with you our latest adventure in Switzerland, this time Evolène!
This region of Valais is well known for the beautiful Swiss Alp views, green pastures and welcoming people, but Evolène truly took our hearts with the gorgeous scenery & kids friendly vibe.
More information about all the Evolène Region on the Tourism office website.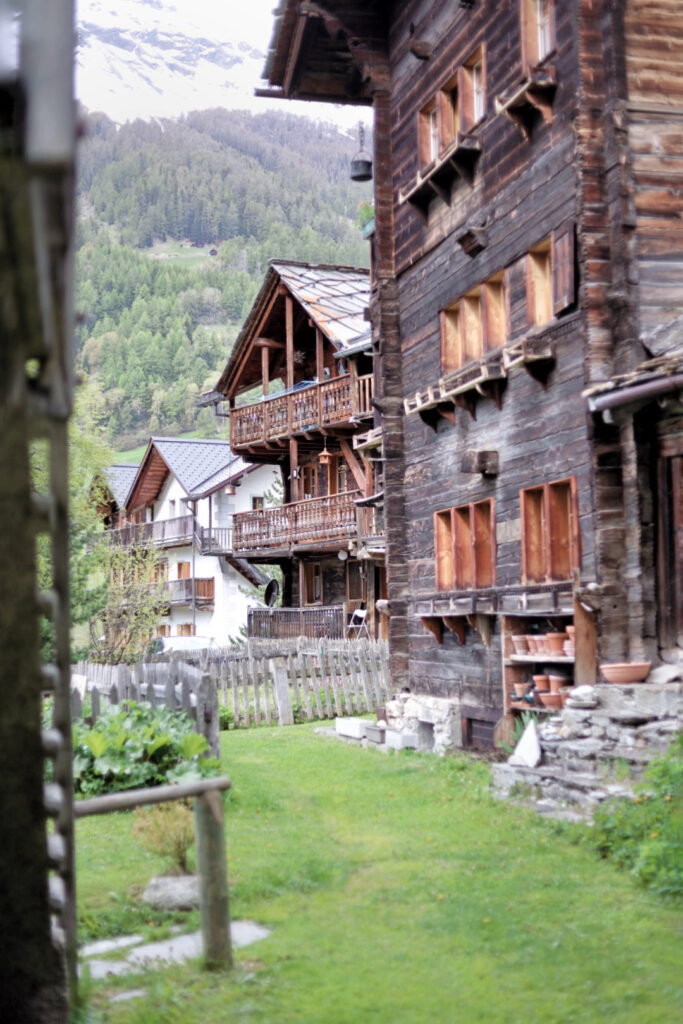 Naturally Authentic! This is what the region of Evolène really is, you feel extremely welcomed not only by the friendly faces, but by nature itself. Sense of welcome, built heritage, local products, folk costumes, local patois (the language the local inhabitants speak among them), traditional carnival, breeding of the "Vaches d'Hérens",
"Each generation has its cause to defend, its tradition to keep alive so that it is not forgotten. "

evolene-region.ch
The Bed & Breakfast
.
We stayed at the Bed & Breakfast La Peniche , a confortable & welcoming rural gîte next to the farm were the owners welcome you with a great smile & open arms. I quickly noticed people at Evolène are extremely friendly & very open.
"Our gîte is part of a desire for exchange between farmers and customers. Come and share good moments of discussion in a pleasant and confident atmosphere. "
Catherine et Marius Pannatier.
All the rooms are freshly renovated, and have all the comfort you can expect from a B&B. The rooms in the first floor have two access, one that is from outside from the terrace & the other from inside. This is super practical in case of muddy shoes or running children.
There is a bedroom on the ground floor for wheelchair access, which is super practical & also very luminous. Good to know, since there is still many accommodations in Switzerland who do not offer this type of access.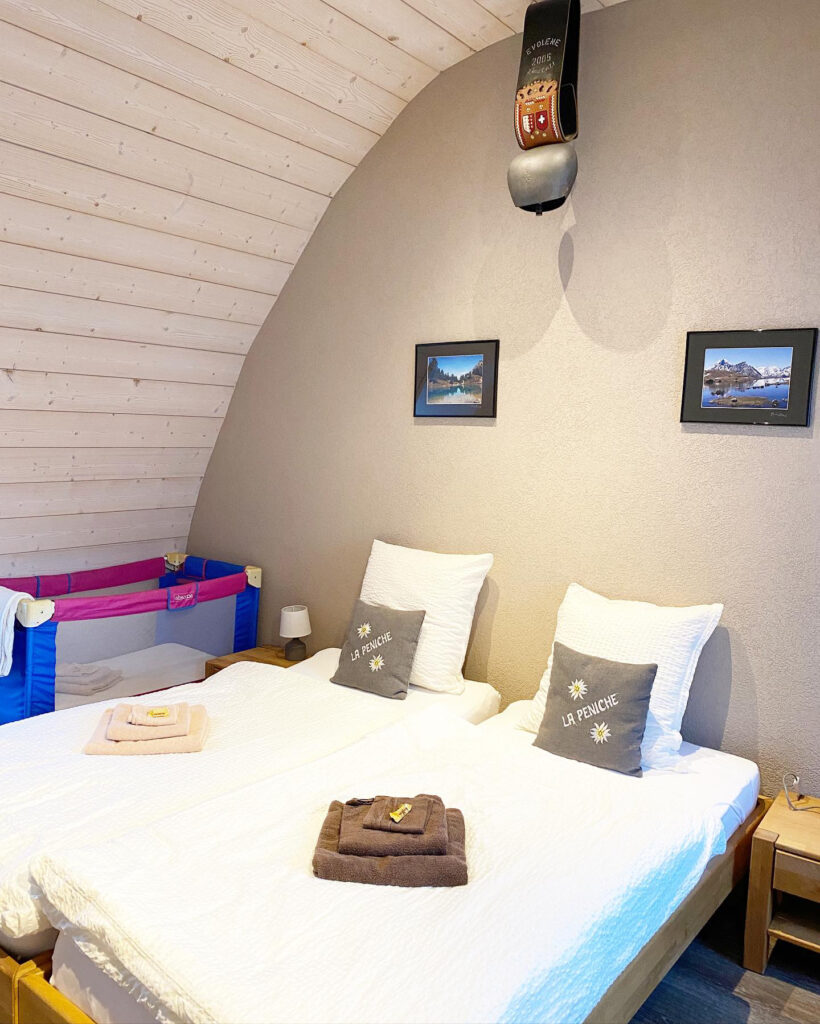 At La Peniche there is also a common area/ living room for people to sit, read a book, children can play board games or grab a tea. Their breakfast is served with local products & delicious bread & jellies. I really appreciated the kids-friendly vibe & the laid back & welcoming attitude.
They provided the bed for the baby & also a high chair in order to have our meals together in the morning. They were also very flexible for all the baby stuff like heating the bottles or putting the baby food on their fridge.
The Restaurants
.
Evolene is known for the traditional cuisine & also amazing dairy products that come from the cows of the region.
We went to two restaurants during the weekend Les Collines for Saturday Lunch & Le Refuge for Sunday lunch, both different and delicious!
Les Collines has been the best surprise I have had in years!
Les Collines
.
Les Collines is a restaurant located at La Sage, more or less 10 minutes away from Evolène
It was the best surprise I have had in a long time. It is not that I was not expecting good food, but I was definitely not expecting such a flavour explosion in my taste buds. Not only the menu was amazing (and very hard to decide) but the service was extra friendly (with us and the baby) the view fantastic & the vibe welcoming and relaxed.
We went for the "tradition" dishes, because we wanted to know what were their specialities. I went for the sweetbreads & burger and Emmanuel for the foie gras with asparagus and then the beef filet. When we got our plates we could not believe our eyes! The plates were full of color & tasty ingredients, and not only that, they were delicious too.
We spent a good part of our Saturday afternoon there, just enjoying the view, the food & the nice atmosphere. We were lucky the baby went for a nap during our lunch.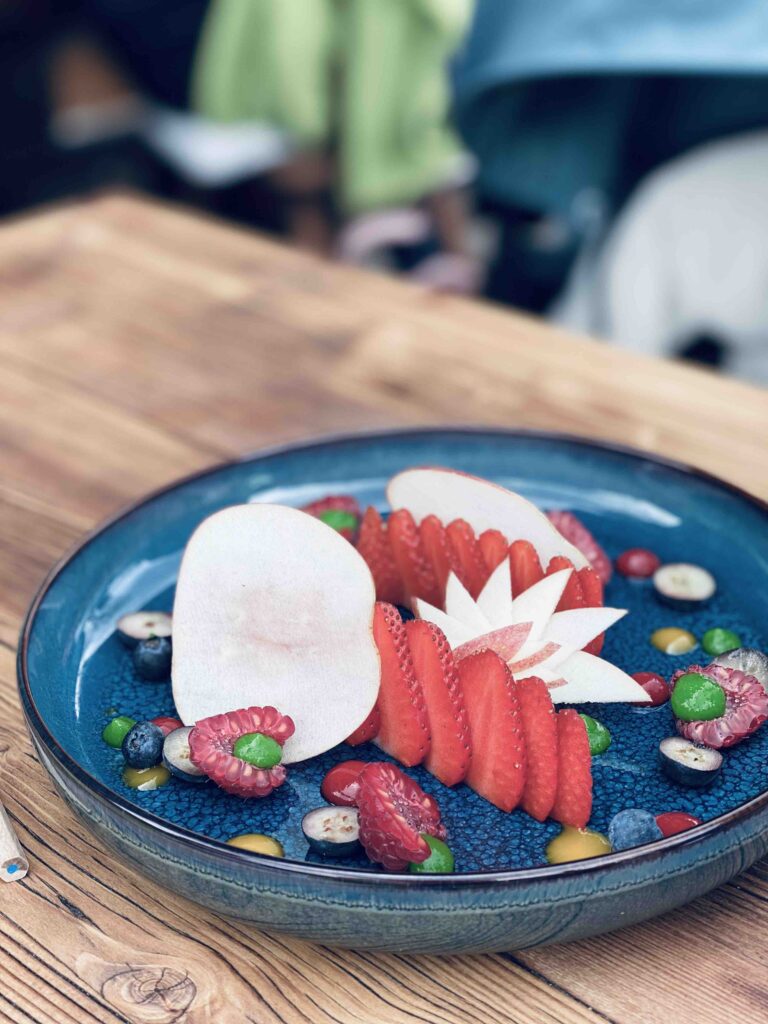 Le Refuge
.
We went to Le Refuge for Sunday Lunch. It is right in front of the BnB we stayed at. My first impression was WOW, this place has an amazing view. I really felt blessed to be there, the sun was shinning, the garden next to the terrace with the kid's playground was lovely and the mountain views were breathtaking.
We ordered a salad to start with & then I ordered the filets de perches & Emmanuel the tartare. Both our dishes were super good and we had a lovely time there.
What stroke me was the friendliness with the kids, there were many kids in the restaurant and playing around. Also on their playground, they kindly offered to prepare something for our daughter (1yo) and the next to the table there was already a high chair and also some colouring material available.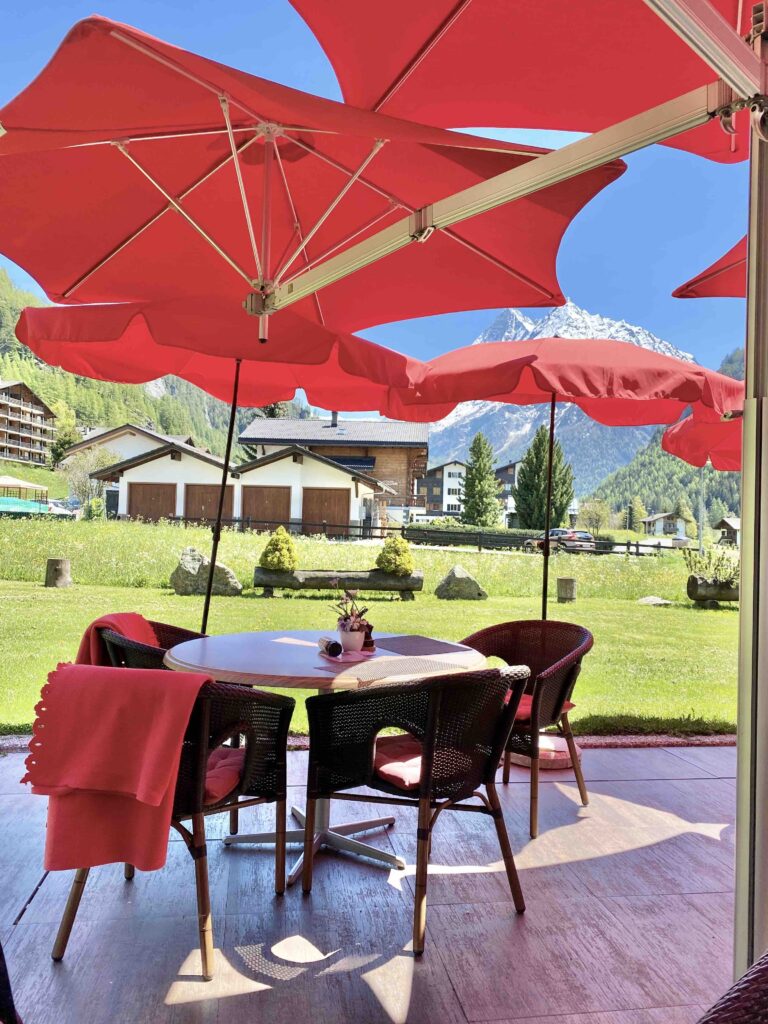 The Activities
.
On Saturday morning we took a guided visit of Evolène & the Museum too. It was amazing to discover their rooted traditions, costumes & way of living. We learnt how they build the traditional Chalets, how families used to live & the why and how they use the traditional costumes.
On request, the tour can also include the Evolène Museum with its rich collection of antique objects, its space dedicated to the development of the region's traditional costume and its special exhibition.
Price: CHF 40.- . Contact the Tourism Office to reserve a tour.
Phone: +41 (0)27 283 40 00
E-mail: [email protected]
We were not able to do all the activities we had planned, because we had to adapt a little to the baby's schedule. But you can check all the Summer & Winter activities on the tourism office website.
On Sunday we visited the Fromagerie des Haudères to buy some cheese from the local milk to bring back to Geneva!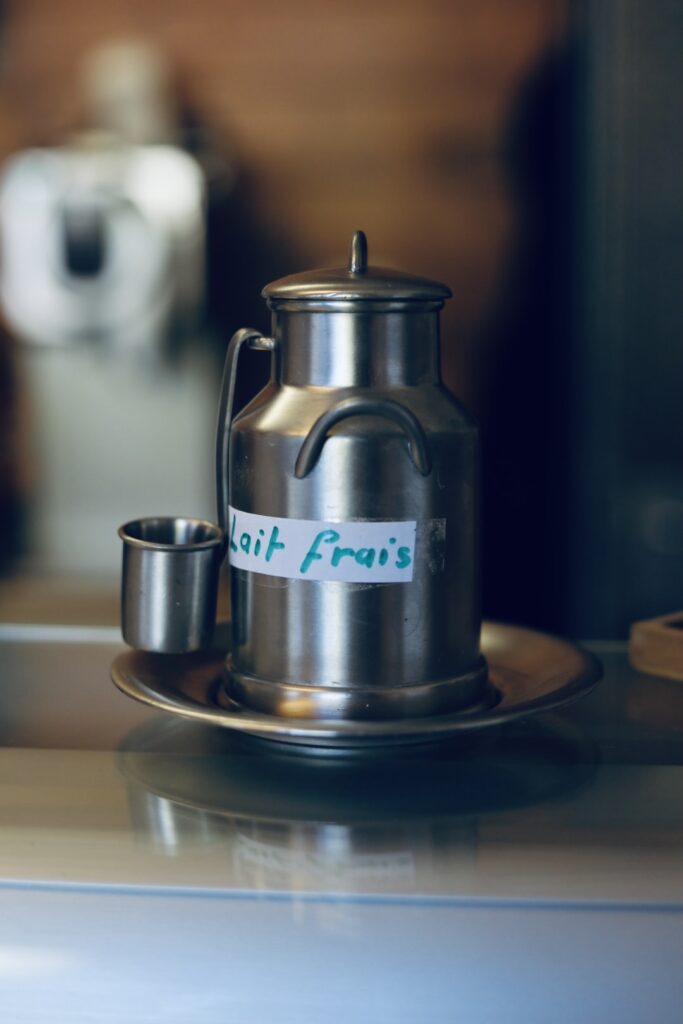 Next to the restaurant Les Collines there is a public self-service library that is 100% worth of visiting! The place is magical & you feel like you want to stay hours there and check all the books that are available there.
Walks and hikes to enjoy the beautiful scenery and definitely one of the best activities! We enjoyed so much a little hike we did close to La Sage, we even saw some cows go up the pastures!
How to get there from Geneva
.
For us the easiest was to get there by car, it was 2.5 hours. You go to the Lausanne direction and then in Sion you leave the motorway and head to Evolène.
You can also take the train to Sion from Geneva and then take the Post bus to Evolène.
Useful information about Evolène-Region
.
Website: evolene-region.ch
Telephone: +41 (0) 27 283 40 00
Instagram: @evoleneregion_arolla
Facebook: Evolene Tourism
Address: Evolène Région Tourisme Place Clos Lombard 6 1983 Evolène Suisse
From Geneva: 2.5 hrs by car and 3 hrs by train + bus
Some photos of Evolène adventure: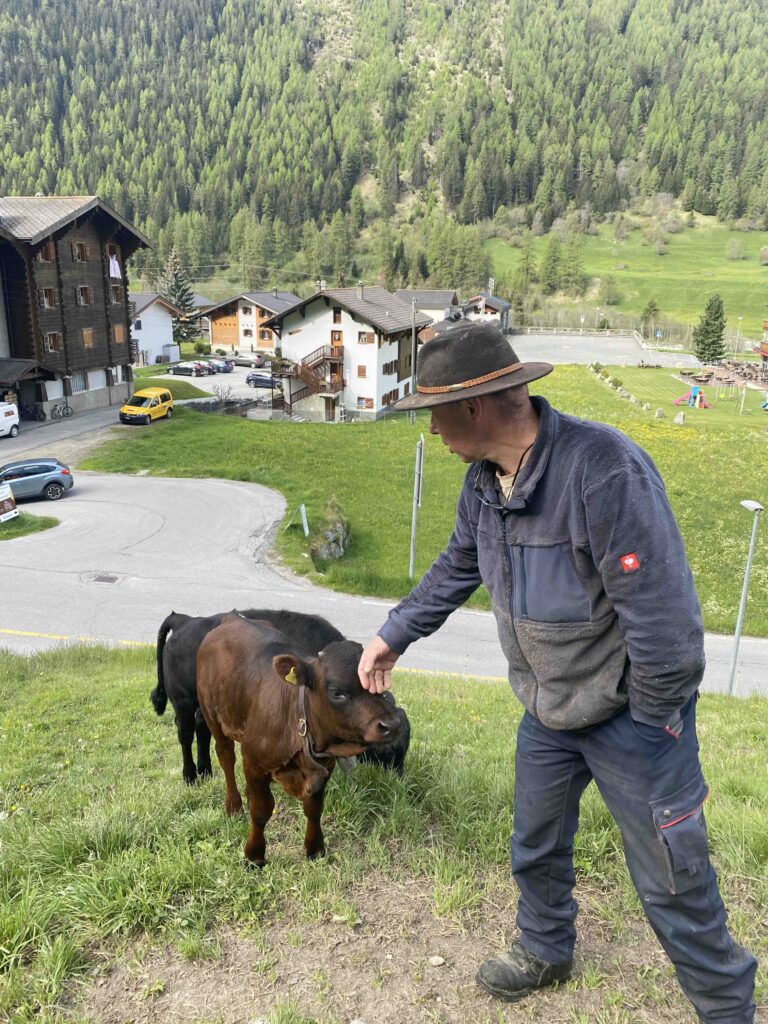 *Article Sponsored by Evolène Region, all reviews and comments stay independent and are according to our Editorial Code
© Copyright Livingeneva. Unless otherwise stated, all content, text and photos on this website are work of Livingeneva and may not be reproduced or copied in any form without authorization.