The Huus Gstaad is a modern and beautiful hotel to enjoy Gstaad and the region! The design is beautiful and you feel like walking into a very fancy friend's house.
Hello dears,
Welcome back to the blog, I am delighted to share with you our latest adventure in Switzerland, this time Gstaad!
It has become a little tradition to come here every year for a weekend scape, and we start to love it more and more.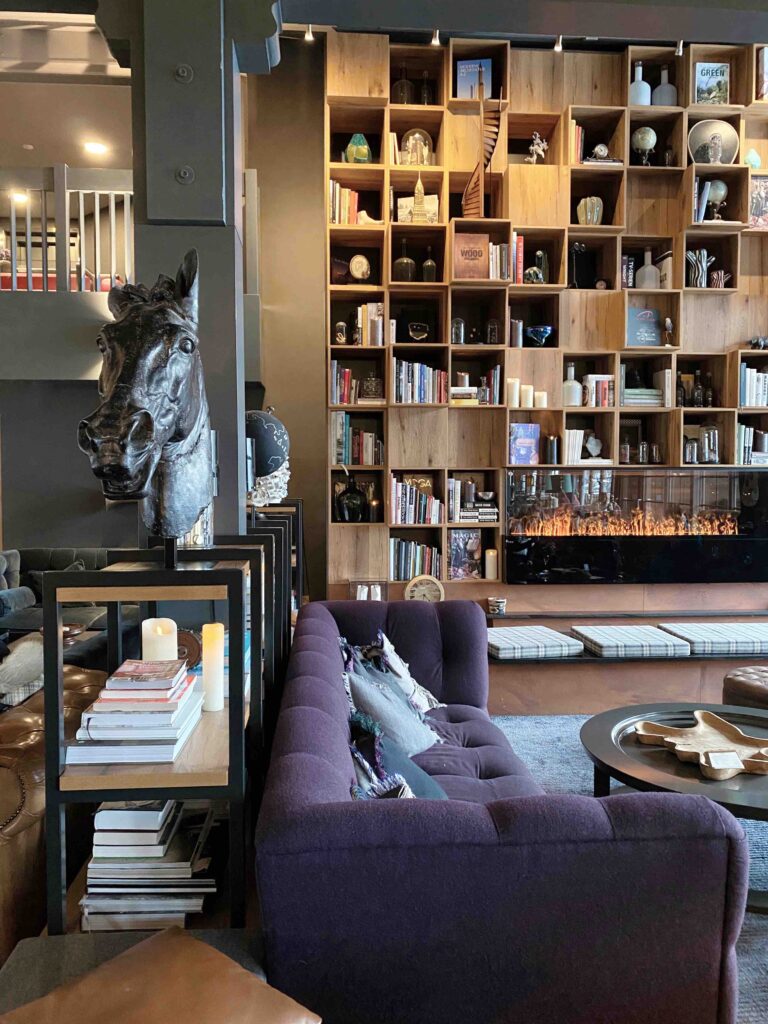 This time we came back to the HUUS GSTAAD a modern Alpine hotel located in Saanen (2 min from Gstaad) with a beautiful lobby and fabulous view. We stayed here back in 2017 and we really enjoyed it, so we were super happy to come back to check it out.
COVID NOTE: We stayed in JANUARY 2021 during the COVID-19 pandemic therefore some services, restaurants, in-room dinning, spa etc. are not displayed. If you are going to stay in this hotel in the near future, please call previously to have an update on the new current COVID regulations. When we stayed, only guests from the hotel could enter the hotel and eat at the restaurant & use the premises.
The Hotel
.
Set 1,111 meters above sea level in the heart of the Bernese Oberland, the surroundings of HUUS Gstaad is breathtaking and magical, opening your window and seeing these mountains full of trees and snow is a show on it's own. Housed in a traditional wooden-clad chalet, the 136-room hotel transcends simple Swiss hospitality to a tastefully decorated space, where you can feel at home.
From the adventure lounge, restaurants, spacious spa, and fully fledged family area to the all-inclusive activities and complimentary equipment, HUUS Gstaad is the sheer embodiment of Bernese bonhomie.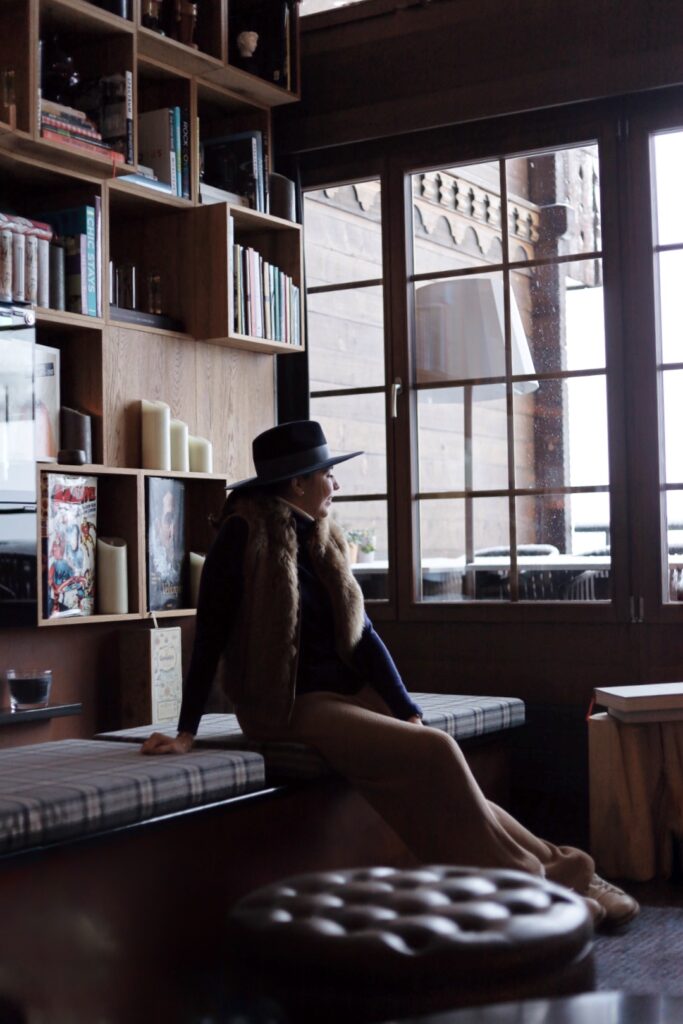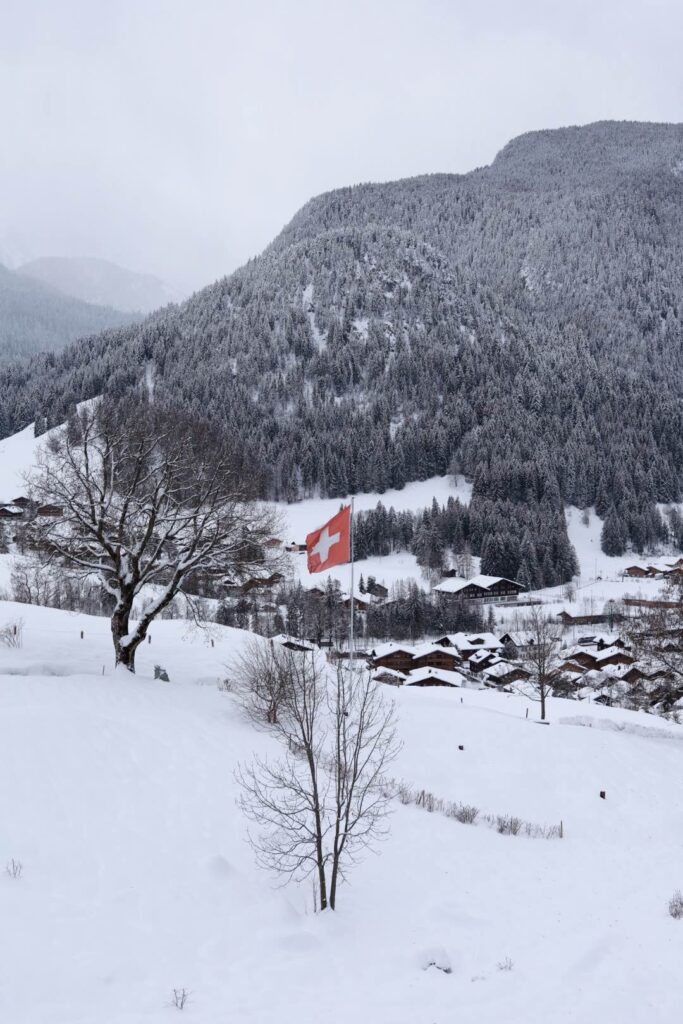 The Rooms
.
All of HUUS Gstaad's 136 rooms and suites have been designed with the surrounding Alpine location at centre stage. The views are absolutely stunning and invite you to open your windows and enjoy the panoramic views! The four room categories all feature a balcony or terrace with either north or south facing views so you can sit and relax.
Rooms have been furnished with large, inviting beds by Swedish brand Hästens. Natural woollen blankets and warm pendulum lights add to the cosy chalet-like atmosphere.
We stayed in the Suite 147-146, it was super practical since we travelled with the baby and we were able to have our own space and there was a separate room with the baby's crib and belongings.
Bathrooms are large and very practical, everything equipped and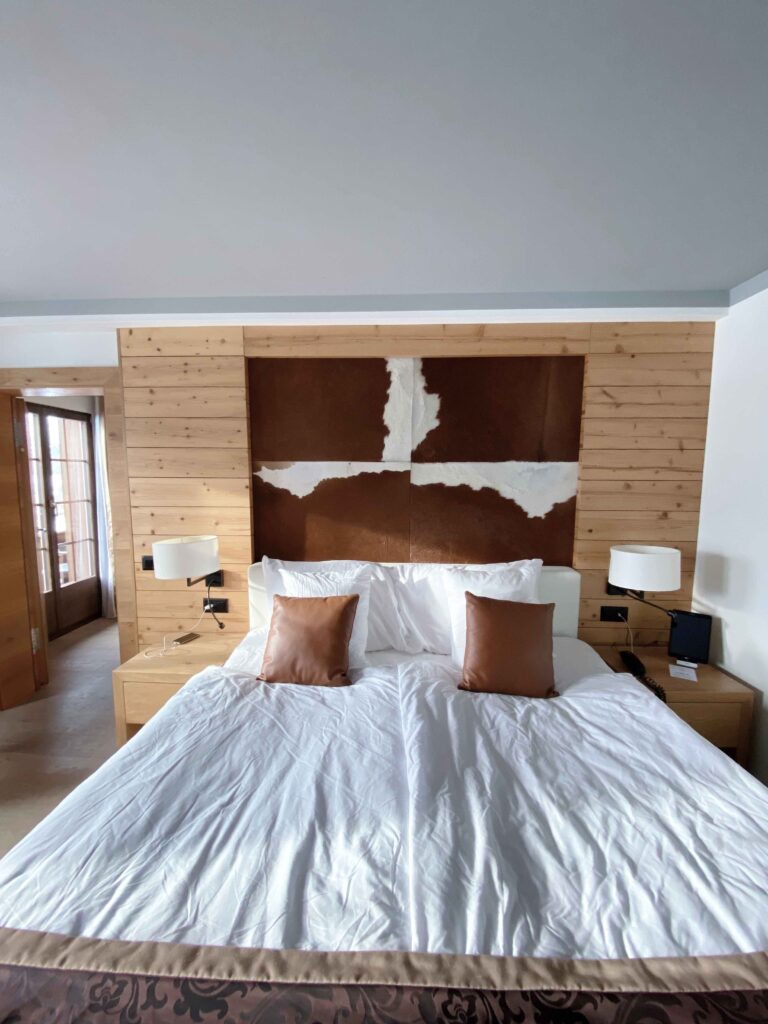 Family & kids
.
We travelled with our 1-year-old daughter and it was very practical hotel to arrive. They are very happy to welcome families and make it easier for them to stay there and facilitate the daycare and other organizations.
As mentioned, they reserved for us a suite with a living room next to it so the baby could sleep there. They provided everything we needed like:
– Crib
– Tub
– Nappy trashcan
– Bath toys and amenities
– Highchairs on restaurant


They also have a super cool kids club for older kids and can provide reservation for day and night babysitters in case you want to ski and enjoy some "adult" time!
Link for kids activities here.
The Breakfast
.
The breakfast at the Huus Gstaad is a great morning moment. Their breakfast is in a buffet style and has most of the things we all want for breakfast, like croissants, eggs, sausages and all types of cereal and breads.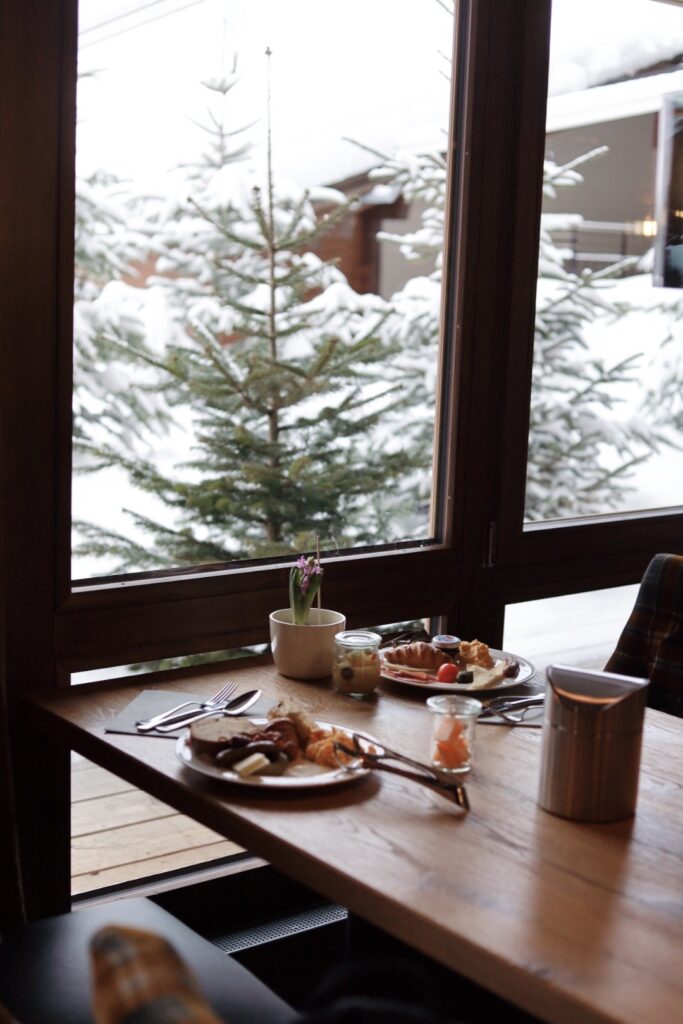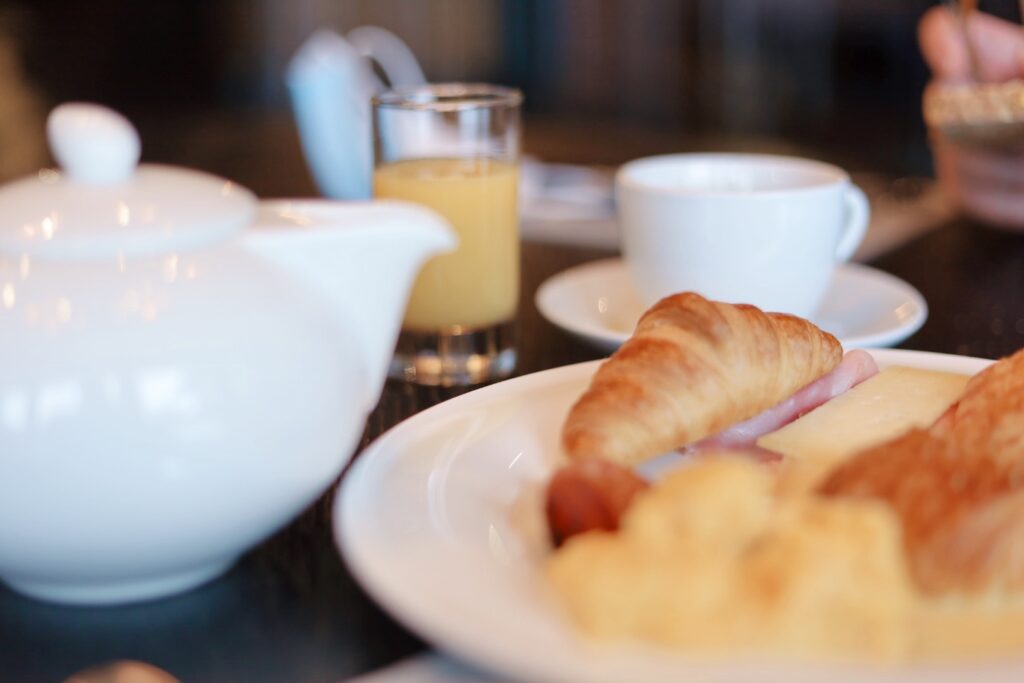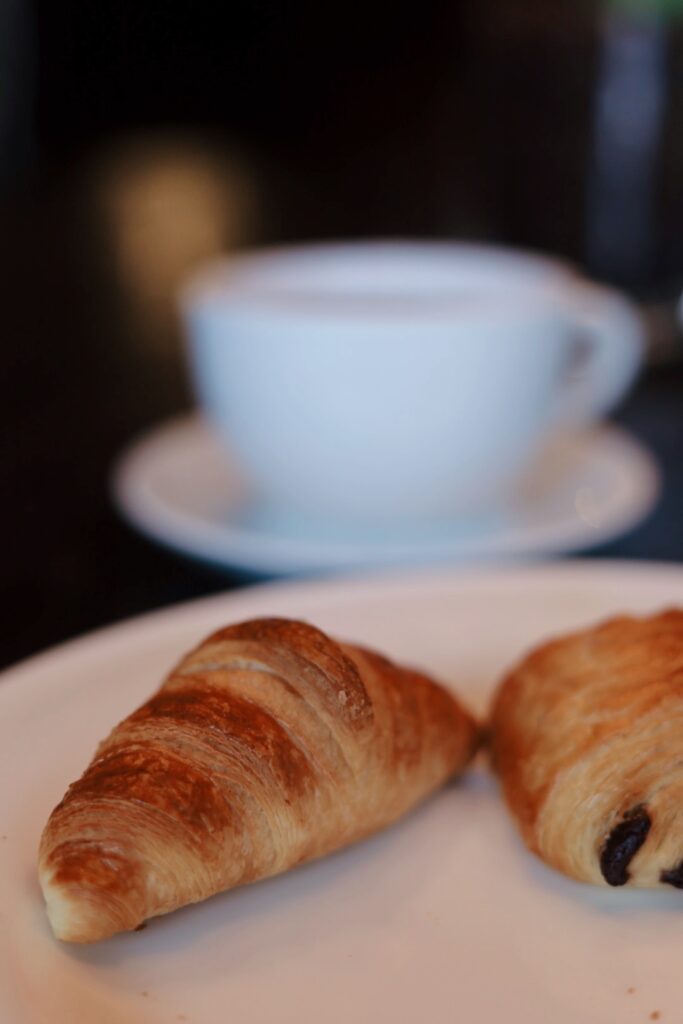 Food & Beverage outlets
.
There are several restaurants at the hotel, depending on the ambiance or cravings you have.
Chalet HÜÜSLI
A small Chalet in the HUUS garden, where you can be sure that cheese fondue and raclette are on the menu. Served in front of an open fire that's powered by wood sourced from the nearby forest. Throughout the summer months we also offer a barbecue in the courtyard in front of HÜÜSLI.
La Vue Restaurant
The kitchen delivers a true taste of the Alps with straight forward, honest and contemporary cuisine. Influenced by the earthiness of the surrounding mountain landscape which can be enjoyed through the restaurant's panoramic windows or from the expansive terrace, our chefs work with regional and seasonal produce. Freshness is paramount. Flavour is key. Craftsmanship is at the highest level and the ingredients used are of the finest quality to ensure the feel-good HUUS atmosphere comes to life through the dishes we create. Try the local lamb – coated in fresh herbs plucked straight from the HUUS garden – it's a classic.
HUUS Gstaad Restaurant
Breakfast is the most important meal of the day, and up here on the 4th floor, it's comprised of over 200 choices ranging from breakfast staples to organic and health foods – we change the options daily to keep things fresh. Don't be surprised if the person beside you orders a soft-boiled egg while another is already sipping an aperitif cocktail – we're open for lunch and dinner too, serving international dishes with a local twist. The restaurant is also home to a terrace and children's area offering an exclusive menu. This one's for the whole family.
The Huus Gstaad in 6 Points
.
Category: 4 star superior

Rooms:

Spacious and beautifully decorated, with lovely views from the Swiss Alps
Venues: The Chalet HÜÜSLI, La Vue and HUUS Restaurant, the lobby bar & the spa

Atmosphere:

Alpine with great design touch.
Price: Prices fluctuate depending on the season and events at the station, please consult on website.
LivinGeneva's Tips: If you are going with a baby our room 146 / 147 was perfect with a room next to it so she could sleep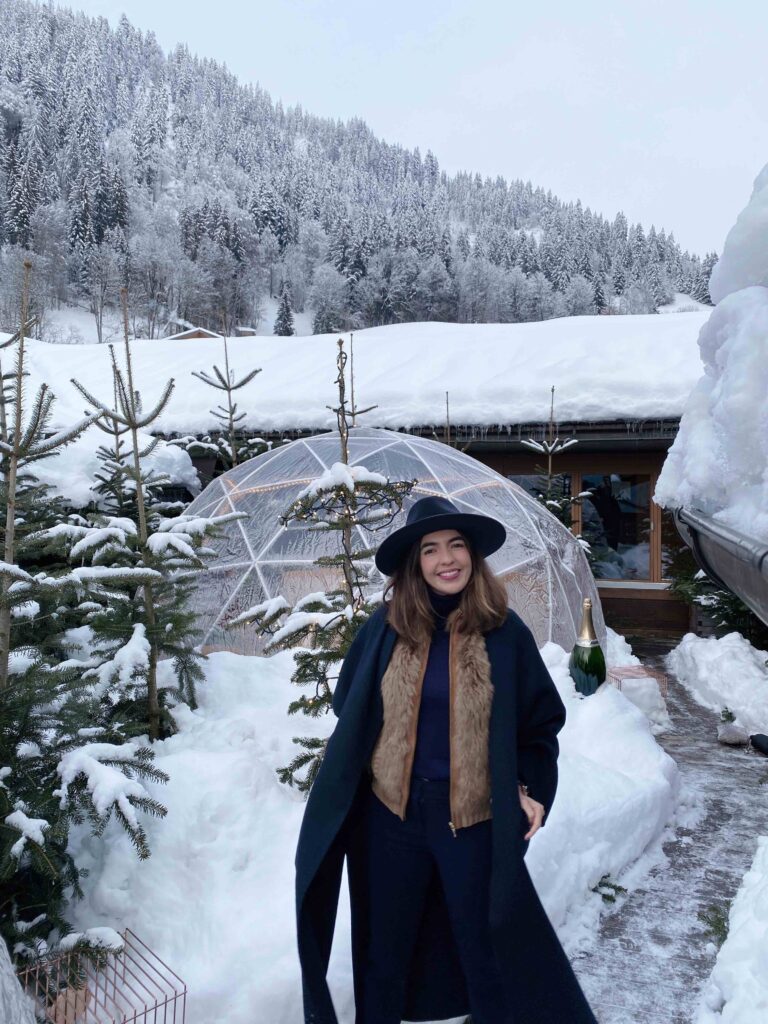 Slopes: 5 min by car
Website: huusgstaad.com
Telephone: +41 33 748 04 04
Instagram: @huusgstaad
Facebook: Huus Gstaad
Address: SCHÖNRIEDSTRASSE 74, 3792 SAANEN-GSTAAD, SWITZERLAND
From Geneva: 2 hrs by car and 3 hrs by train
Some photos of our skiing adventure:
© Copyright Livingeneva. Unless otherwise stated, all content, text and photos on this website are work of Livingeneva and may not be reproduced or copied in any form without authorization.