Hello everyone!
Welcome back to the blog for a post that is on my to do list for like… 4 years LOL. This year I have a lot of resolutions and a lot of them involve reducing my waste, buying less, but better, save some money etc etc. A lot of them involve making a difference on my consumption and even if I am already conscious of what I buy and from where etc. I know I can do better.
One of the best alternatives to FAST FASHION is second hand shopping! I have a secret (or not so secret) fascination for vintage shopping.
There is something about buying something that is no longer available in stores that makes my heart smile. Through my years in Geneva I have my favorite shops that I wander from time to time for inspiration and most of my favorite pieces in my wardrobe are vintage!
Below you will find my favorite shops and boutiques! I hope you enjoy it!
Favorite Vintage Stores in Geneva!
2.- Vintage Garderobe 
This place is… how to say it… a treasure, yes that is the word. In this boutique you have more Hermes bags than at Hermes. You could find anything from a second-hand Chanel to a D&G dress. I also wrote a post here.
Address: 11, Rue Henri-Mussard Geneva 1208
Instagram: @vintage_garderobe
Vintage Garderobe
© LivinGeneva
3.- Les Toutes Belles 
Tiny shop in one of the streets at the back of Manor (Place Grenus) that I discovered a few years ago and that I love going every 2-3 months to see what is new. It is also a great place to sell your things!
Address: Rue des Etuves 17, 1201 Genève
4.- WOOD
This place is more for the 90s lovers out there. Talk about vintage hoodies, banana bags, old caps and neon jackets. They have a sick leather collection of trousers, skirts and jackets.
Address: Boulevard Carl-Vogt 4, 1205 Genève
5.- Croix Rouge – Plainpalais
I have found so many good things there! Do not get disappointed by the first floor. The good things are at the -1 ! There is a special section with "Le coin vintage" and "Le coin chic" that have a selected collection. Believe me if I tell you there are treasures there, last time I went there I saw a Lanvin green dress TDF… unfortunately it did not fit.. snif.
Address: Rue Leschot 2, 1205 Genève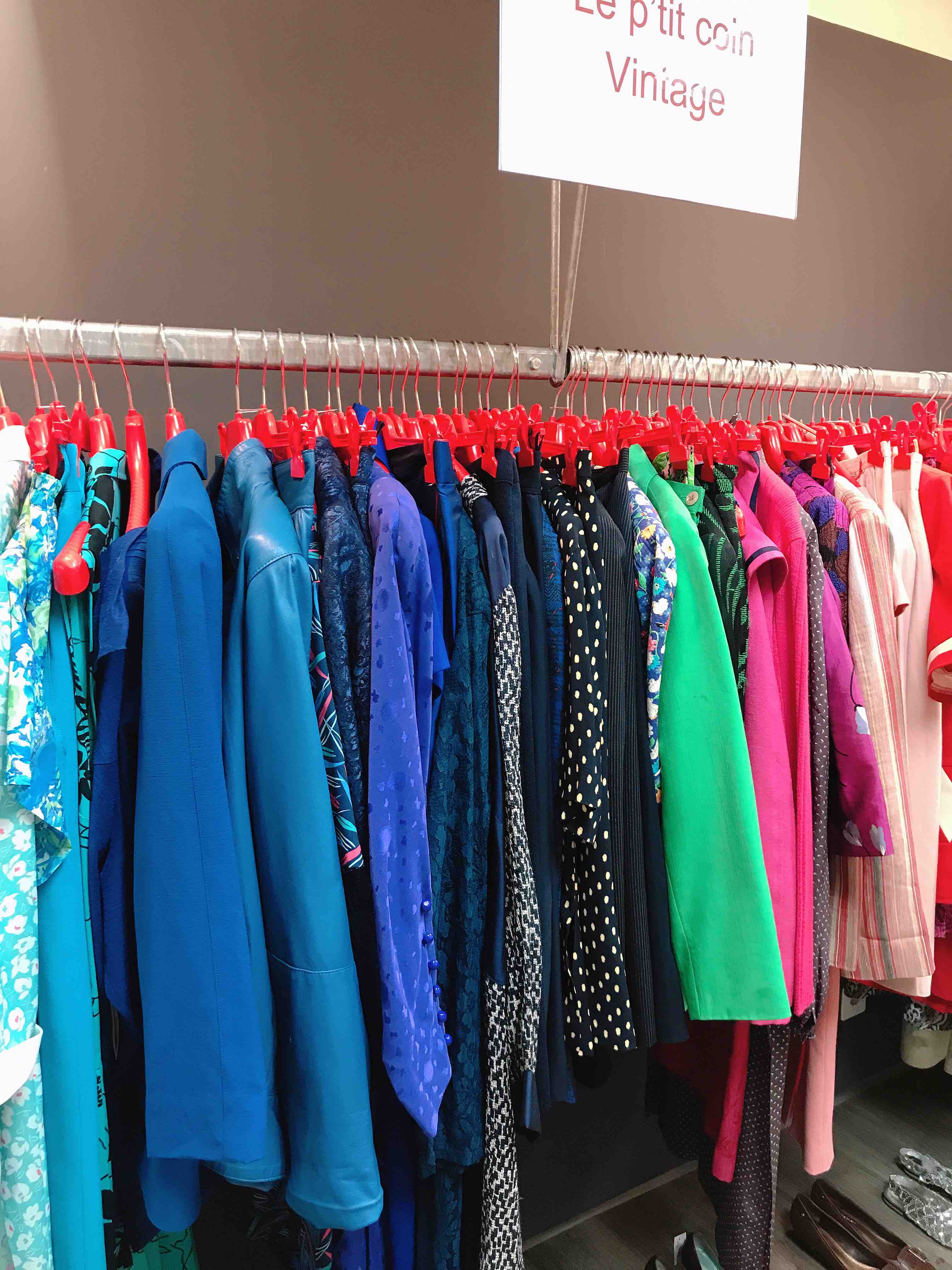 Croix Rouge
© LIVINGENEVA
6.- Flamant Rouge 
One of my first posts here in LivinGeneva! ahhh so cute! This shop has mostly luxury bags and beautiful never-worn shoes. Her selection is insane and the prices are correct.
Flamant Rouge
© FLAMANT ROUGE
7.- Bourse du Luxe 
In this boutique I have bought the most beautiful Dior Vintage dress, they have a beautiful vintage collection of clothes, handbags and shoes! The best is to go downstairs and stroll on their shop, they have so many things you wouldn't imagine down there!
Address: 5 rue Chausse Coq – 1204 Genève  Switzerland
Instagram: @bouseduluxegeneve
Bourse du Luxe
© LivinGeneva
8.- CSP Caritas 
Neighbourhood: Several in Geneva
Charity assosiation that helps people in any type of difficult situation through out different channels. They set up a series of boutiques around Geneva and Switzerland to sell donated items to sustain their different activities.
Website: www.csp.ch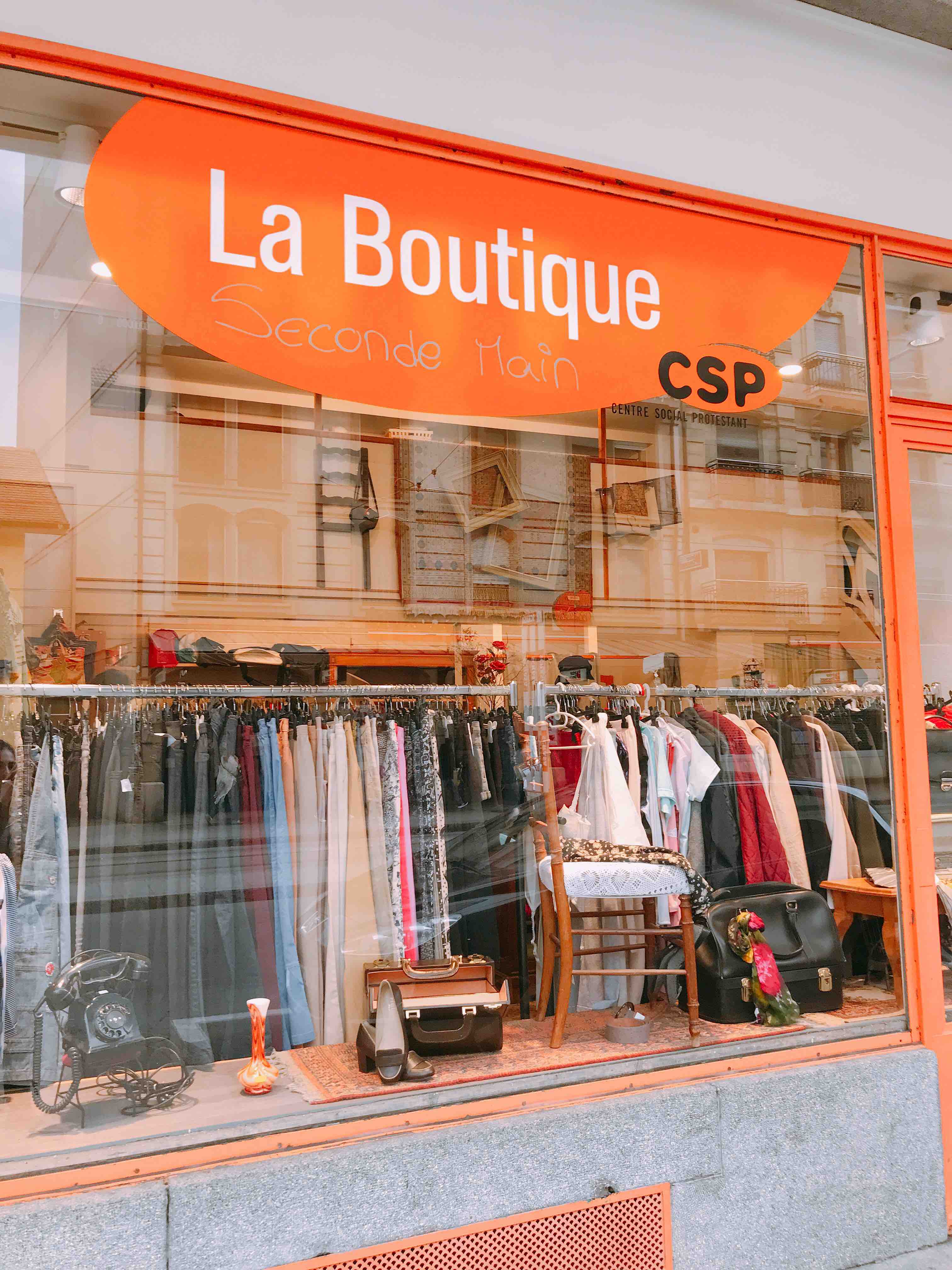 CSP – Boutique
© LIVINGENEVA
9.- Emmaus: La Boutique in Carouge
Neighbourhood: Carouge
Emmaus is a community that started in France to recover the donations and sell them later at their boutiques. Furthermore, they also give for reasonable prices or for free to people in need the donations of others.
In Carouge they have two section, the main one with tons and tons of things and a second one next to it with a selection of the best pieces and furniture. This is great since you already have nicer things and you do not loose time going through everything inside the huge one!
Address: Route de Drize 5, 1227 Carouge
Website: emmaus-ge.ch
Bonus 
UpTown Geneve – great selection of vintage pieces and the boutique is super nice in Paquis. Also you can buy online!
Brocante from Arme du Salut
Coco & Co in Carouge, I have often walked in, never brought anything, but there are nice things.
I hope you liked the list! I am a huge fan of Vintage shops, and as soon as I find a new one I will keep adding them to this list, so make sure to bookmark it.
Which ones are your favourite places in Geneva?
See you soon on the blog!!
XX
Diana
Follow us on social media:
*** Do not use any of the pictures without permission***
*** Do not forget to share this on Social Media!***
Diana Casalis
Founder & Writer at livingeneva.com
Diana was born and raised in Mexico and considers Geneva her second home. She studied Hospitality at Les Roches School of Hotel Management in Switzerland and loves to share everything regarding food, travel, hotels and special spots. She hold several collaborations including Kempinski Hotels, Dorchester Collection Hotels, Forbes Travel Guide, Caviar House & Prunier and many more.
She writes at livingeneva.com, dianacasalis.com regularly and has occasional collaborations with: EasyJet magazine, Forbes & other blogs.
@diana_casalis
LivinGeneva
Summary
Article Name
10 Best Vintage and second-hand shops in Geneva
Description
1. Flair 3 .... 2. Vintage Garderobe ... 3. Les Toutes Belles... 4. Wood 5. Croix Rouge 6. Flamant Rouge ... 7. Bourse du luxe 8. CSP Caritas .....
Author
Publisher Name
Publisher Logo